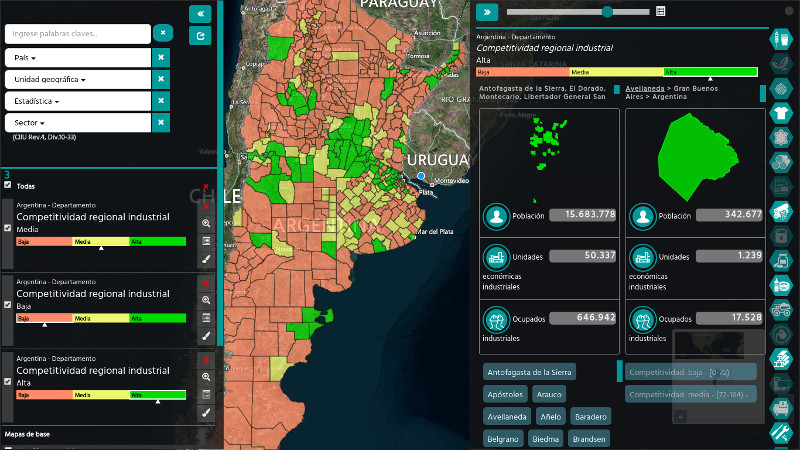 As an extension of the EU-LAC Industrial Maps project, we developed a website with Odoo of scalable industrial maps, with the Industrial Geography of Latin America and the Caribbean. The result, GeoEcon, is an integral system, with an interface completely dedicated to the visualization of large agglomerations of economic and industry data in different countries. This tool is in constant maintenance and development by Moldeo Interactive team. It provides the possibility of comparing territories, modifying the color and texture of the displayed clusters, storing and sharing links with information and viewing very complete reports, among other things.
WebApp: www.geoecon.io

Como una extensión del proyecto de Mapas Industriales de EU-LAC, desarrollamos una web con Odoo de mapas industriales escalables, con la Geografía Industrial de Latinoamérica y el Caribe. El resultado, GeoEcon, es un sistema integral, con una interface completamente dedicada a la visualización de grandes aglomeraciones de datos de la economía y la industria en los distintos países. Esta herramienta se encuentra en constante mantenimiento y desarrollo por parte del equipo de Moldeo Interactive. Proporciona la posibilidad de comparar territorios, modificar el color y la textura de los cluster visualizados, almacenar y compartir vínculos con información y visualizar reportes muy completos, entre otras cosas.
Vistas
723

Vistas totales

723

Vistas del sitio web

0

Embedded Views
Acciones
Social Shares

0

Me gusta

0

No me gusta

0

Comentarios
Veces compartido
0

Facebook

0

Twitter

0

LinkedIn

0

Google+